FTC Disclosure - If you make a purchase through links on this site, we may receive a small commission on the transaction. There is no extra cost to you, and it does not influence our content.

White Lace Bras - How To Wear Them 5 Sensational, Special Ways
White Lace Bras - a must-have for any well-dressed lingerie diva, they're anything but basic...especially when you wear them with killer confidence and style in sweet and sexy ways.
Think outside the box and let yourself be creative!
Avoid the same old bland and boring, plain and practical everyday lingerie, and have some fun playing with this favorite sheer bra style. Here's some inspiration to get you started.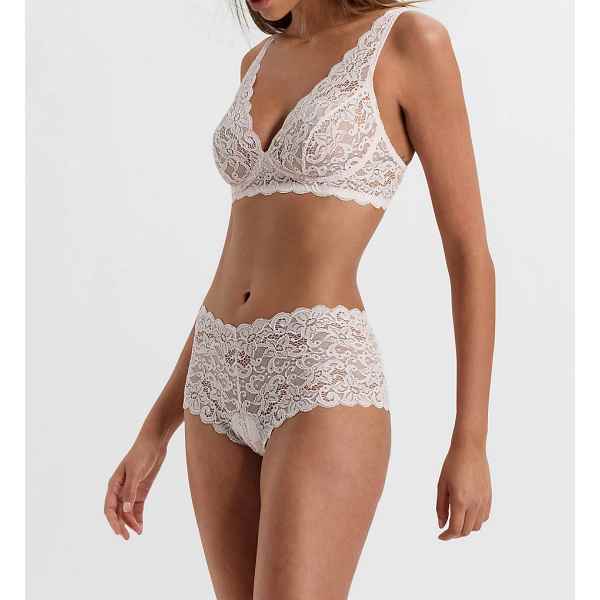 Ladylike White Lace Bras

A lace bra in any shade of white is the epitome of classic elegance in lingerie. It's a sophisticated and timeless color and always makes for the ultimate chic lingerie look.
Wear it with your favorite accessories like a strand of pearls, diamond earrings or silk stockings

Wear it under a classic silk blouse or little black dress
Party of two? Wear it with your favorite scent...Chanel No. 5?

Even if you're just wearing it for yourself you'll feel like the most elegant woman in the room when you wear a white lace bra that's both sexy AND ladylike.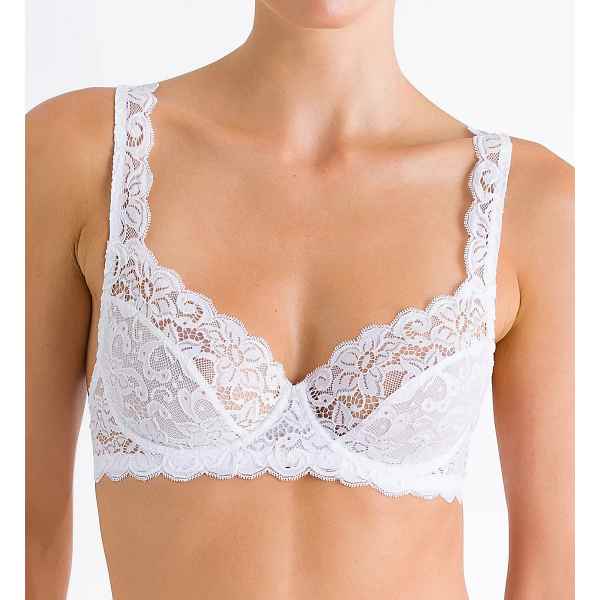 Innocent Lace Bras

White has long been associated with innocence, so why not play that up by wearing a sheer bra in a pale shade of white that channels your inner ingénue.
A white lace bra paired with matching white panties in any style you like, and an equally sweet and sexy silk robe will make you feel pretty and feminine.
Remember that not all sheer lingerie looks need to be kinky or exotic – sometimes an innocent look is all you need for seduction.
Fresh Lace Bras

White is also fresh - the color of purity and cleanliness. Think the girl next door.
So work those ideas into your lingerie look. Keep your hair and makeup natural and fresh and don't wear any other accessories.
Pair your white lace brassiere with simple white panties for a look that's sweet, clean and natural.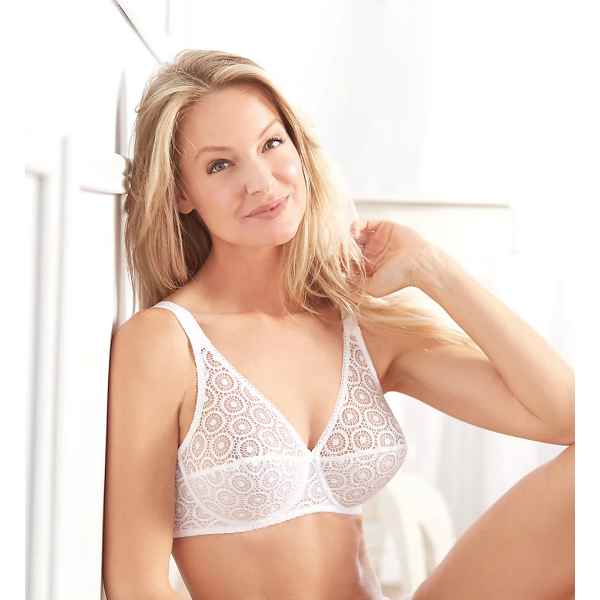 Wear the bra and panties, as opposed to the bra and panties wearing you!
A new look that's carefree and breezy and let's your natural beauty shine can be incredibly intoxicating and MUCH sexier than being contrived and all dolled up.
Your sweetheart will love the way your lingerie stands on it's own without any other distractions.
Sexy Girl View
Décolletage is a sexy French word that refers to a plunging neckline of a low-cut dress or top worn by women.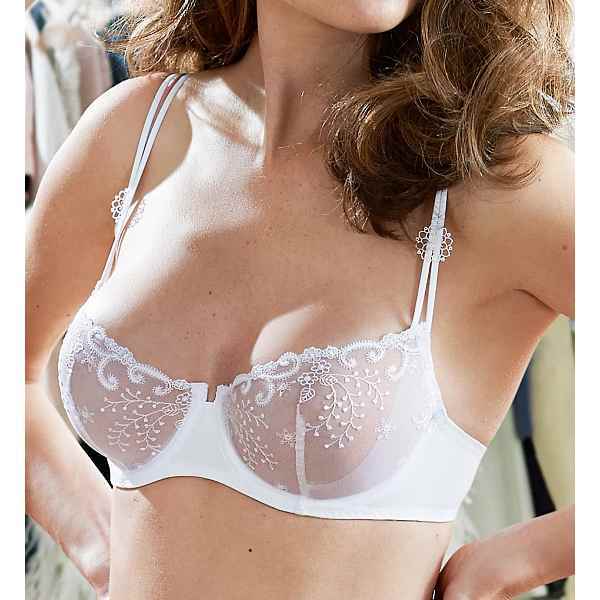 Bridal Lace Bras

Whether you're getting married or you just want to look the part, white lace is always key to a beautiful bridal lingerie look.
Wear it for your wedding night, your anniversary, to celebrate your engagement, or even just for fun.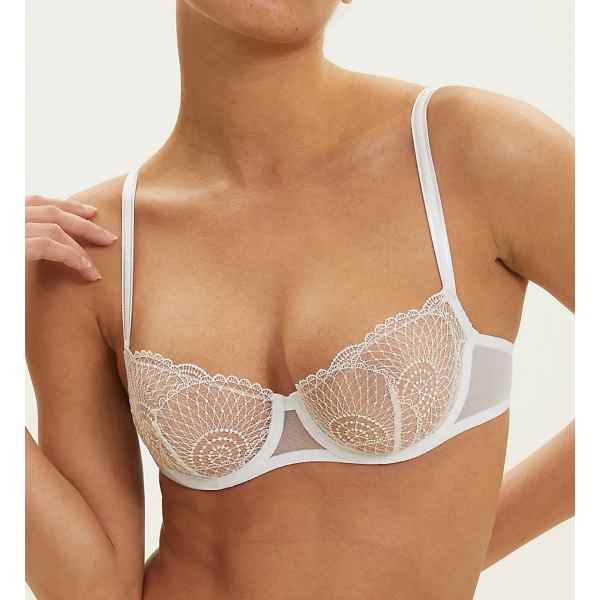 A garter belt and sheer stockings combo, and even your veil can be fun and sexy accessories to play up the blushing bride look.
If you're celebrating your anniversary, decorate the bedroom as if it's the honeymoon suite and have fun reminiscing and enjoying the night you said, "I do".
Vintage Lace Bras

The colorful range of bra styles are a fairly new addition to the lingerie marketplace when you compare them to the brassieres and lingerie of past eras.
For the longest time white was the only lingerie color manufactured. Bras were always simply made of white lace, that was the standard.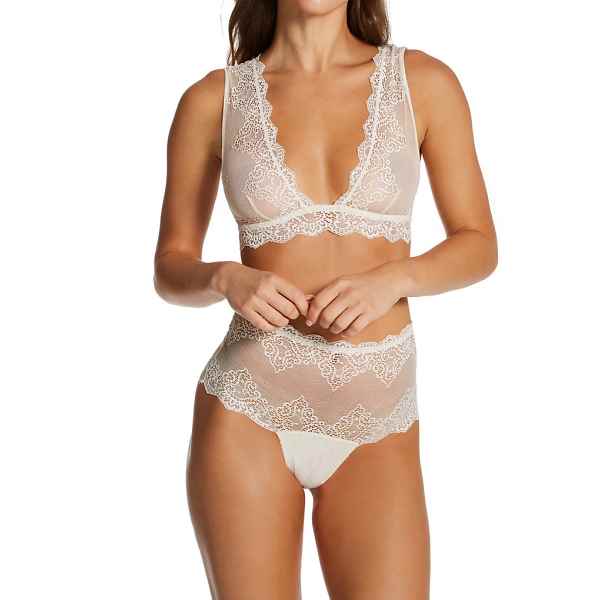 These days white is still by far the most popular lingerie color, but it's also a look that can have a fun vintage feel when you play it up with your accessories:
Channel your inner 40's pin up girl with red lipstick
A 50's homemaker with a ruffled apron and a flipped out bob
A 60's secretary with cat-eye glasses
This look is cute and costumey, and all about having fun and getting into character.
Work the vintage aspect of white lace for a look that's memorable and guaranteed to be fun for both you and your honey.