FTC Disclosure - If you make a purchase through links on this site, we may receive a small commission on the transaction. There is no extra cost to you, and it does not influence our content.

Spicy Lingerie: The Best Ways To Boost Sex Appeal

Spicy Lingerie - Sure, you can slip into a sheer bra and panty set and it's business as usual. See thru is always sexy, right?

But, if you really want to move from meh to mind blowing and hypnotize your honey like never before, check out these sexy girl tips that will tantalize and tempt...and wow!

Spicy Lingerie - Show Something Fun Underneath

See through lingerie is the perfect blank canvas to have some fun with what you choose to reveal underneath. Show off a silky physique with - 
bare Brazilian wax
body painting
jeweled pasties
tassles
belly chains and more
The goal? Show off something totally unexpected that will leave your sweetie counting down 'til they can get a better look at your ooh la la exotic accessories and savor the sexy view.
Add Lusty Layers To Bras And Panties

One of the best things we love about see thru lingerie? It lets you layer your favorite pieces and show them off - at the same time.
How? Start with your favorite sexy bra and barely-there panties, then start to build the look that you want.
Add a sexy babydoll, a lace chemise, a see thru nightie or peekaboo robe.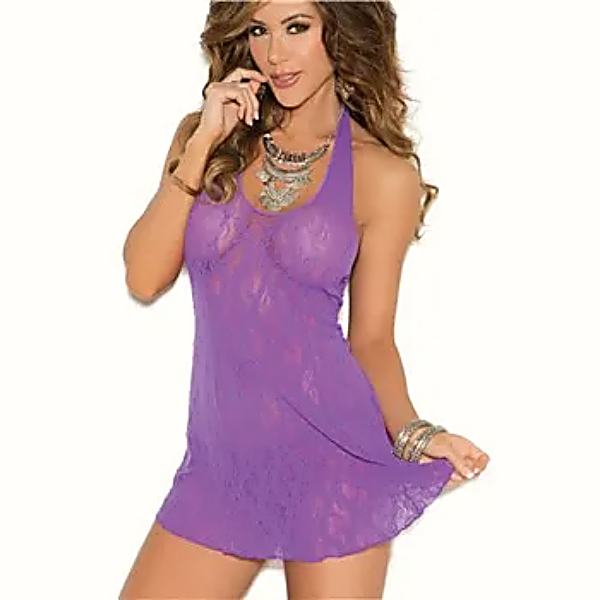 Being able to see through the sexy layers only to glimpse more provocative ones underneath will drive your honey wild with temptation.
The anticipation of peeling off each layer to get to the treasure beneath prolongs the playful part of the adventure - it becomes an unbelievably tantalizing game that will keep them working hard to get to their reward.
Play With Transparent Lingerie Textures

Not all sheer fabrics are the same, and different textures will give you different erotic looks. Here's what we mean:
Transparent nylon shows everything off and is bold and racy
Mesh has a playful and even sporty look
Lace is ladylike and elegant
Sheer chiffon looks sweet and girlie
How do you choose something you'll love?
Pick a texture that helps play up the look you want, or have fun with pieces that combine different fabrics for a decadent and luxurious look.
You can also use different fabrics to help flatter your figure. Use a floral lace pattern across an area you want to disguise, like a soft tummy and save the ultra sheer nylons for the assets you want to show off.
Sexy Girl Tip
You can use spicy lingerie to hide a problem area AND flatter your shape.
Example - use a floral lace pattern across an area that you want to disguise (like a soft tummy) and save the ultra sheers for the assets you want to show off.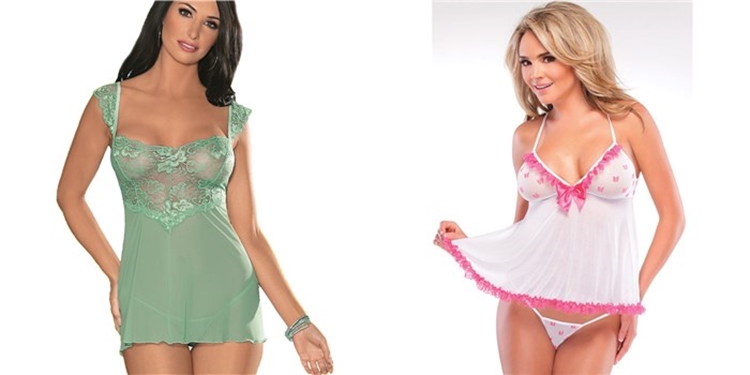 Role Play In Exotic Lingerie Favorites

Set the mood for a sexy evening ahead and get into a kinky character with different spicy lingerie looks guaranteed to leave your sweetie breathless with anticipation.
Suggestions?

Opt for sweet and sexy bras, panties, garter belts and stockings in spicy see through mesh for a sporty and flirty look when you're full of erotic energy and want to give him a real workout

Choose deliciously delicate chiffon nightgowns or negligees when you're craving romance and tenderness
Look for classic and elegant lace bustiers and teddies when you want to be treated like a lady with a secret
Have fun with your spicy adventures. Sheer lingerie makes it easy to get into character and role-play your favorite fantasies.
Slip Into Sexy Lingerie And Borrow From The Boys

Excite your honey by giving them an eyeful of sexy contrast when you pair spicy lingerie with favorites from his closet. Here are afew suggestions that will inspire - 
Wear his shirt unbuttoned with a sheer camisole and bikini panties underneath
Rock his classic white tank undershirt with lace boyshorts
Wear his favorite sports jersey with a tiny mesh thong, or wear a barely-there see-through bra with a pair of his boxers or briefs
These masculine meets feminine looks are the perfect combination of casual and sexy - with your very own personal twist.
The bonus?  A gift that just keeps on giving!
Every time your partner puts on that same favorite dress shirt, under shirt or sports jersey, the warm, sexy memories of you showing off in it, AND the seductive moments that you shared will make them want you like never before!