FTC Disclosure - If you make a purchase through links on this site, we may receive a small commission on the transaction. There is no extra cost to you, and it does not influence our content.

Sheer Bodystocking - The Best Behind The Scenes Secrets

Sheer Bodystocking - Sexy and curve-hugging, what's not to love! And the best part? You don't need to be Gisele Bundchen or have the perfect proportions of a supermodel to pull off this amazing look.
As sheer lingerie lovers of the world, we're all unique, and we come in different shapes and sizes. Happily, so do body stockings.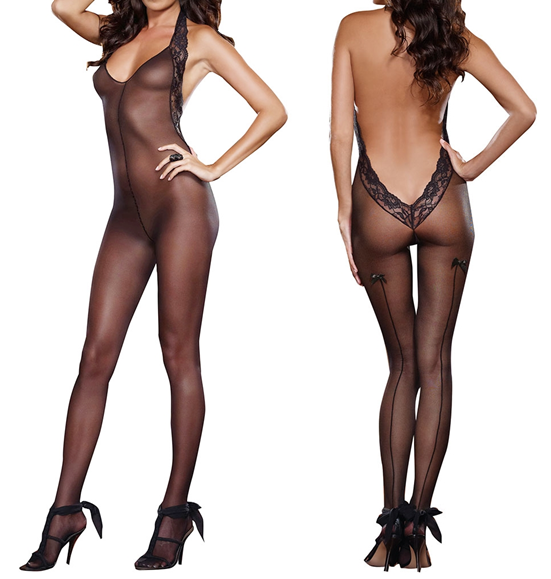 Here, we share some of the best style and size tips and tricks to help you find the perfect style to suit your shape. Once you've chosen your very own perfect look, enjoy!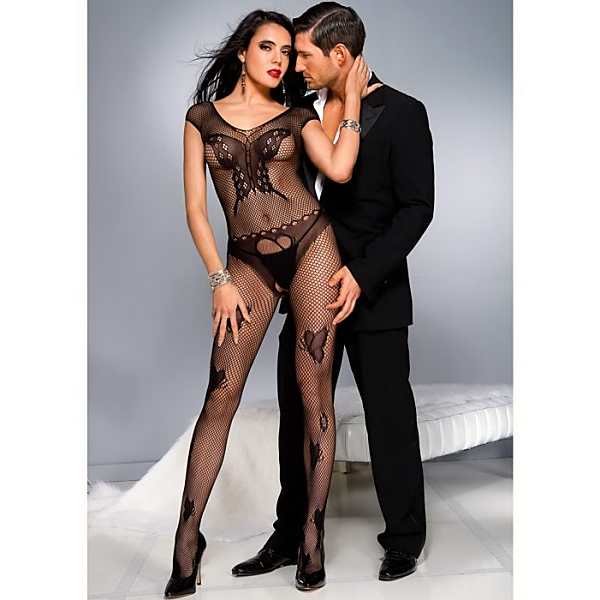 Sheer Bodystocking Secrets

Body Stockings For Petites

The biggest thing petites want to focus on is to not let their small frame be swallowed up by overwhelming patterns or details.
Keep any patterns vertical, and steer clear of horizontal lines of any kind
Sheer lingerie styles with vertical stripes, or rows of beading or trim along the legs will keep the eye moving up, and add length to your frame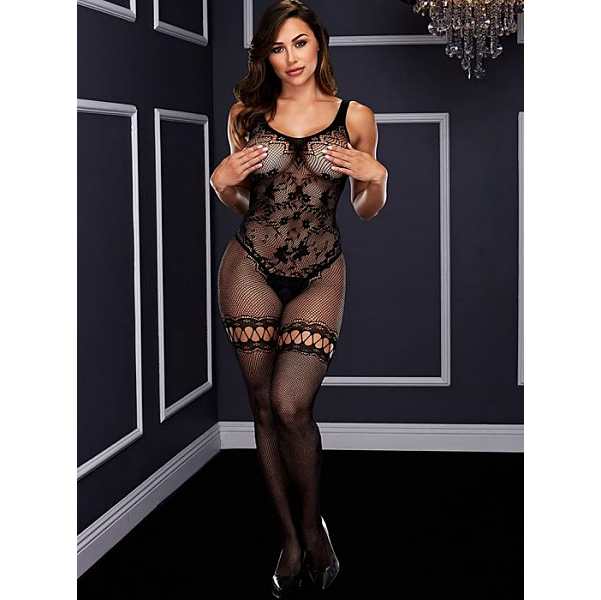 Look for body stockings that have one pattern all over, instead of those that get confusing and busy with lace on the legs, mesh on the torso, and yet another pattern on the bust. You get the idea.
Too much pattern or detail will overwhelm a petite frame and confuse the eye.
It's better to keep it simple (and sexy!) with one pattern and a fluid line up and down that makes you appear taller (and tempting!).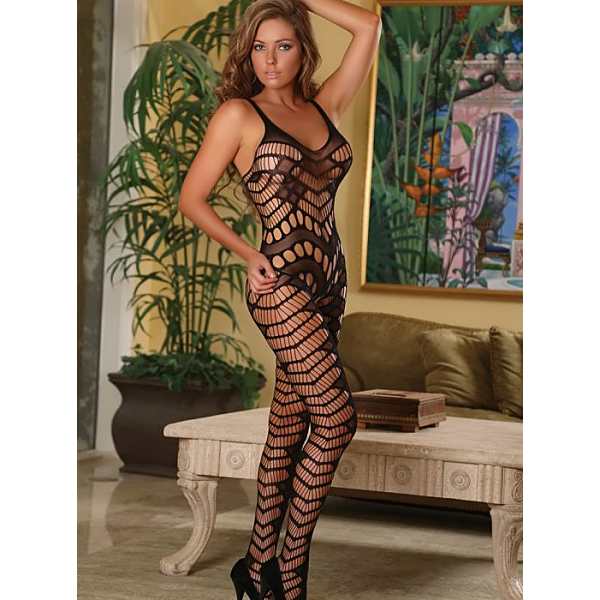 Bodystocking Tips For Sexy Curves

Curvy provocateurs will want to focus on keeping the eye moving across any problem areas, and the best way to do this is with patterns and textures.
For example, if you have a jiggly tummy, avoid plain sheer nylon across the torso and instead opt for styles with a rusched material across the midriff, or patterns like mesh, lace florals, or sheer animal print over those areas.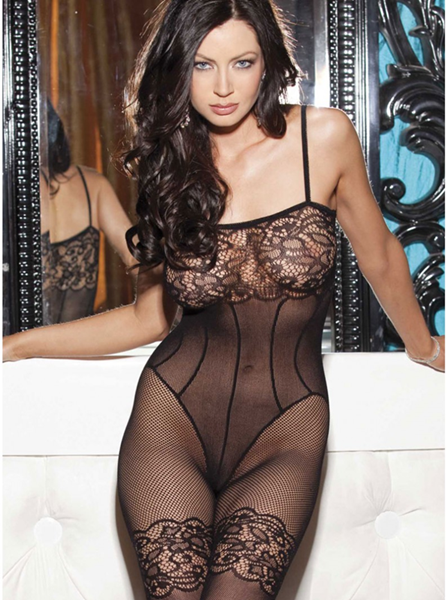 The eye will then focus on the print and not on areas you'd rather hide.
If you're self-conscious about baring your arms, look for styles with sexy see through sleeves to give you just a hint of coverage and comfort that will tempt and tease your sweetie.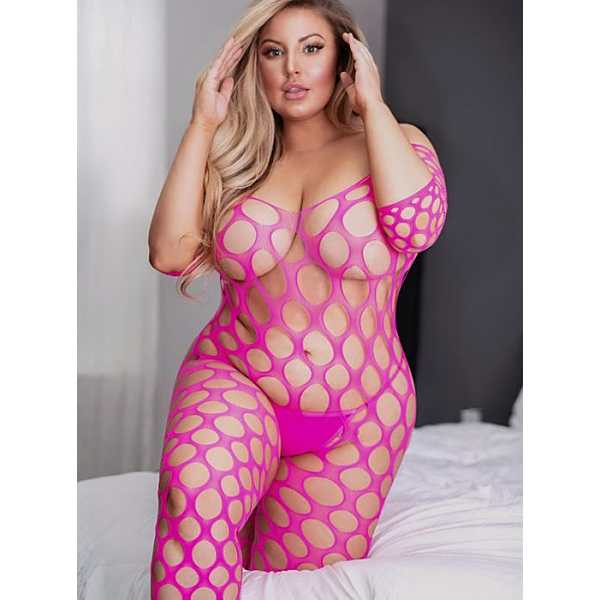 Body Stocking Tips For Hourglass Shapes

If you have an hourglass silhouette, lucky you!
Pretty much any style of bodystocking works for your shape so you can choose whatever suits your fancy to play up your curves.
If you want to focus on overall slimming, look for small-scale patterns and details that keep the eye moving and add height to your frame.
Play up your curvy proportions by opting for a style that has details at the waist like straps or faux corset vertical details.
This enhances an hourglass shape and definitely adds va-va-voom!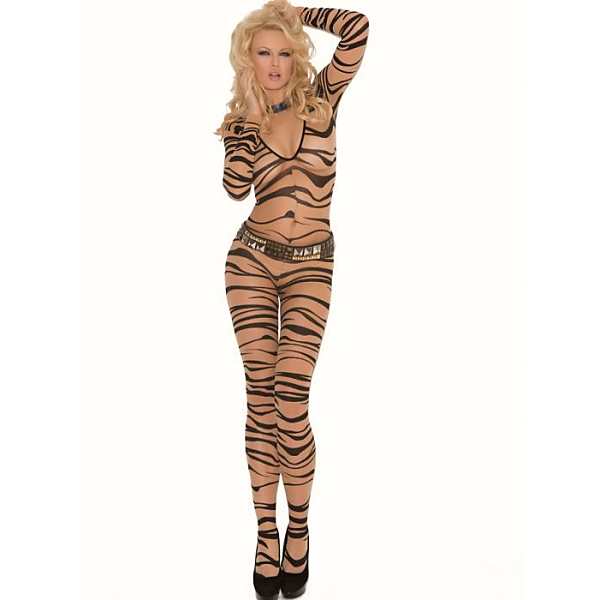 Bodystockings For Pear Shapes

The key to flattering a pear shape is balancing the top half with the curvy bottom half to create a more balanced proportion.
How, you may wonder? Glad you asked! Here are a few tips to get you started -

Look for sheer bodystockings that have details along the bustline like extra lace, ruffles, fringe, crystals, sequins, etc.... anything that creates interest and adds volume to the top half
You may even want to opt for sexy styles with crisscross straps that will draw the eye up and keep the emphasis upward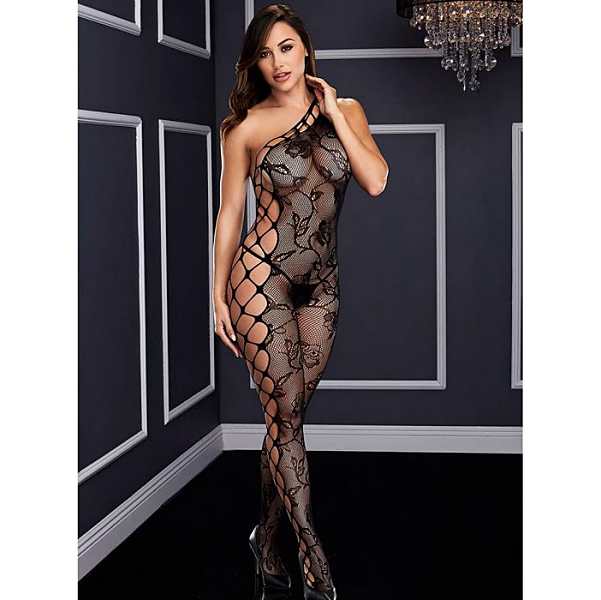 Also, a great tip that not many know - to visually help balance your bottom half, choose styles with a small-scale pattern, like lace or tiny dots. Remember to keep it simple and sleek.

This will keep your lovely derrière looking sexy without appearing too busy. With visual interest drawn to the bust and neckline, a pear shape will appear more balanced, and sexy, sexy, sexy!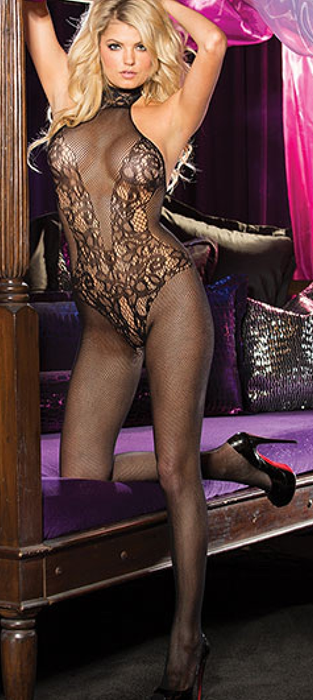 Sheer Body Stocking Essentials For Busty Babes

It's a fact that curves rule! Busty silhouettes by default will look sensational in a sheer bodysuit. Rest assured, your honey will love, love the lovely view!
A quick fit tip that will save tons of time (and frustration!) when you're shopping for sheer lingerie -
Opt for sexy styles that flatter your shape by balancing your top and bottom halves
Why? Your gorgeous girls (your top half) won't overwhelm your dainty derrière. The look will be visually pleasing...and stimulating for your intended!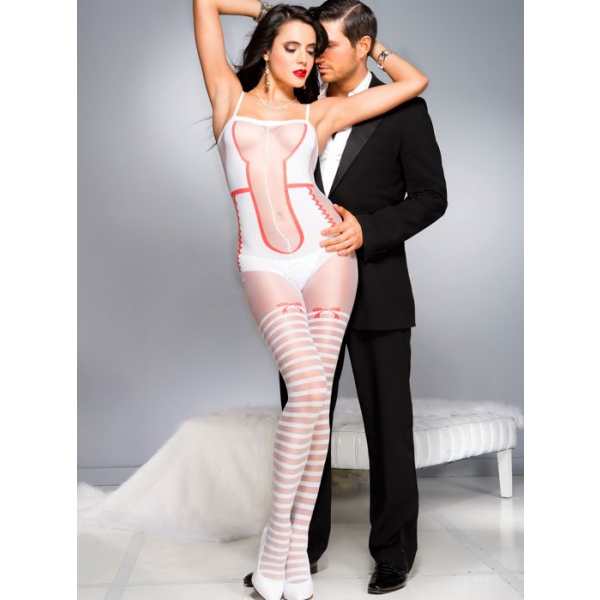 And, what about support? Glad you asked.
If, you feel you need a little more support for your sexy soirée, opt for styles with bra straps that are slightly wider, and underwire cups
Finally, take a look at styles with larger patterns on the bottom half, such as lace or fishnet

And, look for trims and detailing along the hips and legs to balance a larger bust and create your sexiest silhouette yet!