FTC Disclosure - If you make a purchase through links on this site, we may receive a small commission on the transaction. There is no extra cost to you, and it does not influence our content.

Sexy Nightgowns: The Best Styles For A Mind Blowing Look

Sexy Nightgowns - When you're ready to dial up the sex appeal and take your sleepwear from safe and sweet to smoldering and seductive, you'll want to make sure you have at least one of these naughty nightgowns in your repertoire.
Better yet, stock up on all of them for a lust-worthy lingerie drawer secret cache that will leave your honey counting down 'til bedtime.
Here are the hot nighties you'll want to get familiar with for the ultimate bedroom thrills: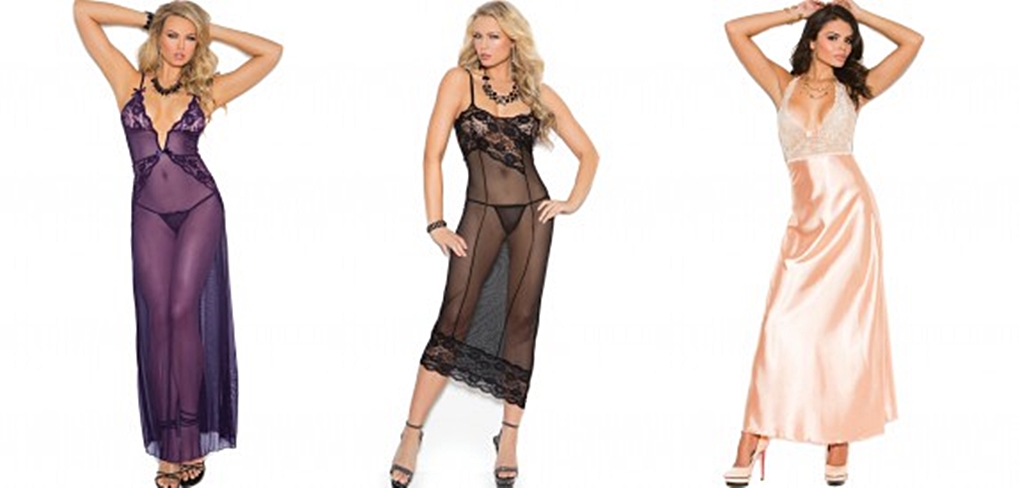 Sheer Sexy Nightgowns

Men want to see your curves and sexy silhouette, it's that simple.
A sheer nightgown is one of the hottest ways to tantalize your honey while still keeping your curves under wraps.
Sheer fabrics give them a glimpse without putting it all out there.
You still get to dress up and have fun with flirty baby dolls, sexy negligees, sleek slips or whatever style is your favorite, while giving him the eye candy he wants.
Naughty And Nice Mesh Nightgowns

Mesh is the sportier, sexier sister of traditional lace lingerie. You get the same sheer look but an edgier allure. 
Rock a full mesh nightgown or take baby steps with see-though mesh panels.
When you step into the bedroom in a mesh nightie your honey will know that you're not just in the mood for sleep.
SHOP NOW
Sheer Lingerie With A Sexy Costumes Twist

When you're feeling frisky you'll want to leave the classic chemises aside and opt for a racier look with sheer lingerie.
It's is also the perfect time to pull out your sweet and sexy lingerie costumes and have some fun.
If you have a naughty nurse nightgown, or a French maid's apron that you can tie on over a sheer slip, now is the time to go for it.
Nightgowns get even more exciting when you enter the fantasy realm and use your imagination. Have fun with role playing and dressing the part of your spellbinding alter ego.
Sexy Nightgowns In Cutaway Styles

Make your sexy nightie as skimpy as possible by choosing a style that you absolutely love with revealing cutouts to captivate his curiosity.
Show some skin with a front view exposed - flyaway styles and a plunging neckline that's open from the bust down. Peek-a-boo open bras or open tip bras with cutout cups are great choices.
Prefer to show off a well-toned back? Opt for bare panels along the waist or a sexy sheer nightie with a criss-cross back.
You may be wearing a nighty but these coy cutaway styles give you a barely-there look that will leave your sweetie begging for more.
Sexy Nightgowns For The Naughty Ingenue

No lover can resist the ultimate juxtaposition of sweet pastels, bows and lace cleverly placed on a nearly naked nightgown.
Rock a skimpy and scandalous nighty that's both x-rated and demure at the same time and he won't know if you're naughty or nice.
Show off your sexy split personality with a style that gives him the best of both worlds. In a word: intoxicating!

Sexy Nightgowns For The Wild Woman

Do regular colors and patterns leave you wanting more? Then, consider leopard, zebra, cheetah or python prints. They're a great way to kick things up a notch.
Choose your exotic lingerie and get on the prowl!
Night gowns in these animal prints will make you feel like a glamorous goddess and will show your partner that you're inspired to take a walk on the wild side.
You'll be in control when you show up in a racy negligee that sets the tone for a sexy, untamed night. Grrrr!