FTC Disclosure - If you make a purchase through links on this site, we may receive a small commission on the transaction. There is no extra cost to you, and it does not influence our content.

Open Tip Bra - The Most Popular Myths And Tantalizing Truths

Open Tip Bra - Let's face it, crazy, sexy, cool open bras aren't a lingerie style that we wear as part of our daily repertoire, like boyshorts, camisoles or even t-shirt bras.
Many women have never worn sheer lingerie before, so the idea of it may seem a little intimidating.
Why? Ads and websites filled with provocative photos of sexy lingerie can make us feel like we could never come close to pulling off such a hot look. That's a huge myth.

The truth is that you can!
We've rounded up the biggest myths (and truths), plus a few insider tips about this barely-there bra style to help you go from ho-hum to hot, hot, hot. P.S....it's easier than you think.
Myth #1 - You Need A Lot Of Experience To Wear An Open Tip Bra
Truth - Open bras are for everyone, even women who don't have a lot of experience with adventurous exotic lingerie. This peek-a-boo bra is a great option, especially if it's your first time.
There are lots of styles available, so you can choose something that fits your comfort level as well as how much you want to show off.
Not sure? Start slowly and pair an open bra with a pair of simple panties that are already in your lingerie drawer.
Opt for a saucy black thong or a cheeky pair of boyshorts, and your sweetie won't be able to tear his eyes away from your sexy, and daring display of skin.
Myth #2 - You Need To Be Into Fetish Wear To Wear A Cupless Bra
Truth - Think that sexy sheer lingerie is only for fanciers of fetish? Think again!
Even if you've never worn erotic lingerie before, or your style is more classic and ladylike, open bust lingerie can be the perfect look that's just right for you.
How? You don't have to be into edgy, hard core kinky lingerie to pull this look off.
There are lots of pretty and feminine styles that are tailor-made for your preferences and personality, so you don't have to feel like you're pretending to be someone you're not.
The best part of an open tip bra and open lingerie is that it works perfectly with other pieces that you already own, so you can easily mix and match saucy with simple, and create your own amazingly sexy look that suits you to a T.
Sexy Girl Tip
Real women of any size can really rock their curves with sexy confidence in a reavealing open tip bra.
Myth #3 - Open Lingerie Doesn't Work For Real Women's Bodies
Truth - Women of any shape or size can look smoking-hot in sexy bras.
While a regular everyday bra that tends to keep you well covered, an open bra shows off your assets in a provocative way like never before.
So relax, and enjoy!
Your sweetie will be so mesmerized with the exciting, daring sexy girl in front of him that he won't be noticing that little bit of imaginary cellulite, soft tummy, or slight jiggle that we women tend to worry about.
He won't be wishing your breasts were bigger or perkier – instead he'll be hypnotized by your sexy new look, and thanking his lucky stars that he gets to see you nearly naked in this amazingly sexy lingerie.
Myth #4 - You Won't Be Able To Pull Off An Open Nipple Bra

Truth - Think that open lingerie is too difficult to wear? Surprise, an open nipple bra is surprisingly easy to wear.

Why?
Open tip bras come in a variety of sensational soft silks, satins, and sheer styles that are irresistibly sexy, stretchy, and sizeable.
The best part is that you don't need to be an infamous burlesque beauty like Dita Von Teese or a supermodel like Gisele Bundchen to slip on open bust lingerie.  All you need is great attitude with a hint of audacity.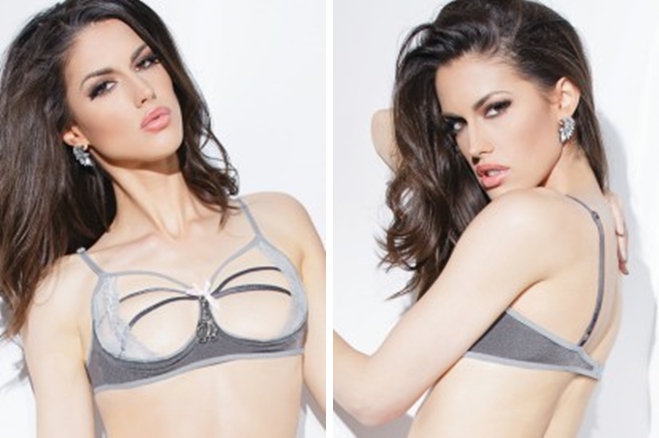 Want to kick it up a notch?

Give yourself a little TLC before debuting your barely-there bra:
get a pedicure
slather on some sexy scented oil
tousle your locks, and get ready to blow his mind
Relax, don't take yourself too seriously, and most importantly, ENJOY!
Remember that no one can see you but your lucky lover. He'll be in awe of your new boudoir ensemble and will be the first to tell you how much he loves your new look!