FTC Disclosure - If you make a purchase through links on this site, we may receive a small commission on the transaction. There is no extra cost to you, and it does not influence our content.

Open Nipple Bra Secrets That Will Make You A Vixen

Open Nipple Bra - When you're ready to take your lingerie game to the next level, this open bra is the perfect way to go.
It's provocative, bold and a little bit kinky. This is an open lingerie style that's sure to stun your guy into complete surrender.
Make it even more mesmerizing when you put these tried and true tips to use and look and feel sexier than you ever imagined.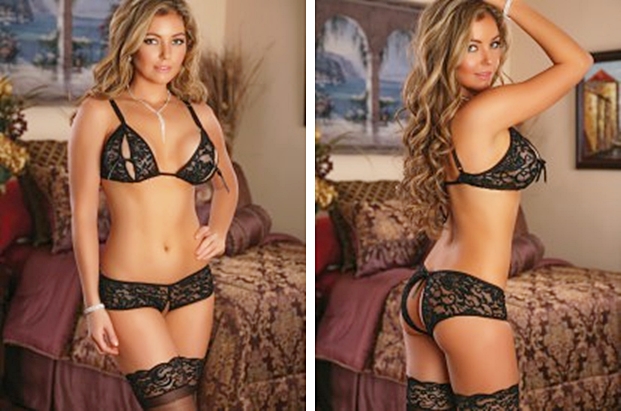 There's An Open Nipple Bra For Everyone

No matter what your cup size or comfort level, there's an open bra that will look amazing on every woman.
If you're modest, you can ease into going bare by choosing an open tip bra with small cutouts that show off just the tip. If you're on the bolder side you can look for a completely cupless bra.
A shelf bra sits just underneath the breasts to give you any extra bit of lift or oomph you might need, which makes it great for both small and larger busted women.
There are pretty sheer bras, racy erotic bras and virtually everything in between, to please even the most discerning lingerie goddess.
Sexy Girl Tip
An open tip bra offers a tantalizing glimpse, while keeping the rest of the breast covered - a great way to keep your sweetheart guessing!
Open Bras and How To Rock A Sexy Look

Since your assets are on full display, make sure your body looks and feels its best.
After showering or bathing, use a rich creamy moisturizer or scented, luxurious oil on your body, focusing on the décolletage, neck and arms.
Your skin will glow and you'll smell so sexy your lover will want to get as close as he can.
Feeling pampered and pretty will relax you and give you more confidence to rock your sexy lingerie with a saucy and smoldering attitude.
Elevate Your Performance In Open Lingerie

A peekaboo open nipple bra is a feisty and powerful look, so your bedroom performance should mirror that attitude. Give your lover a show he'll never forget.
Try a sultry strip tease
Bring out your favorite toys and feather ticklers

Have fun playing and trying out different positions
Make it a special night - skip the same old, same old no frills and lights out - channel the hot attitude of open lingerie and don't be afraid to get frisky.
Take Command in an Open Cup Bra

A cupless bra isn't the same as a demure slip or a ladylike chemise - it has a more raw and risqué vibe, which can translate into a fun boudoir behavior.
Since the look of an open bra is racy and erotic, take it as an opportunity to take command in the bedroom.
Step into a daring, dominant alter ego and take charge - blindfold him with a sexy silk scarf, and demand that you be on top. He'll love your take-charge attitude as much as he loves your new and sensual sexy lingerie.
Sexy Secrets....
Going an uber sexy look? Opt for a sheer bra in your favorite color, and pair it with a contrasting color.
KISS (Keep It Sexy Simple) in Sheer Lingerie

Since an open front bra is a jaw-dropping attention grabber, it's pretty safe to assume he won't be able to tear his eyes away from your breasts, and probably won't notice much else you're wearing.
You can certainly play up the rest of your look with a garter, fishnets, and an exotic thong or matching panties, but chances are the bra will keep him hypnotized.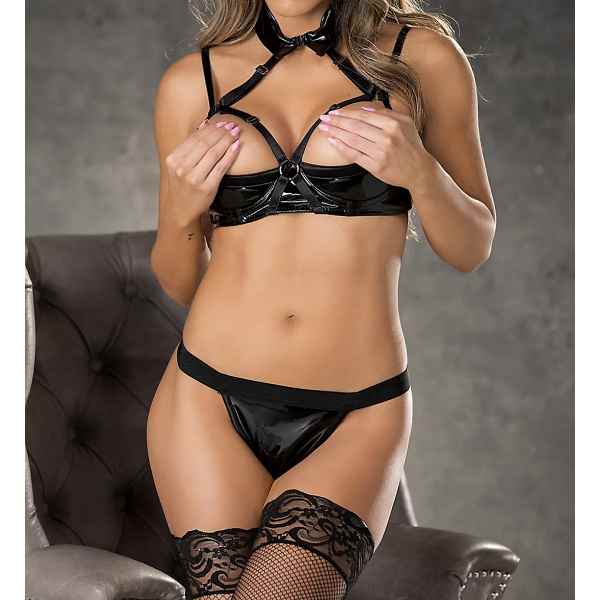 The suggestion? Save the bells and whistles for another night and opt to keep the rest of your look simple.
Try pairing your open nipple bra with a simple thong or sheer pair of boyshorts and let your gorgeous girls take center stage.