FTC Disclosure - If you make a purchase through links on this site, we may receive a small commission on the transaction. There is no extra cost to you, and it does not influence our content.

Open Cup Bras: How To Be A Sexy Girl (From Petite To Curvy)

Open Cup Bras - When it comes to open bras or any sensational sheer lingerie, you don't have to have the body of Elle Macpherson, or the latest supermodel to stun your sweetie.
Whether your breasts are large or small, perky or flat, or anywhere in between, there's an open bra that will look amazing on you.
Regardless of whether you're petite or plus-sized, sexy lingerie comes in countless stunning styles and sizes - so, relax and enjoy. These sensational secrets and tips will fit and flatter your shape.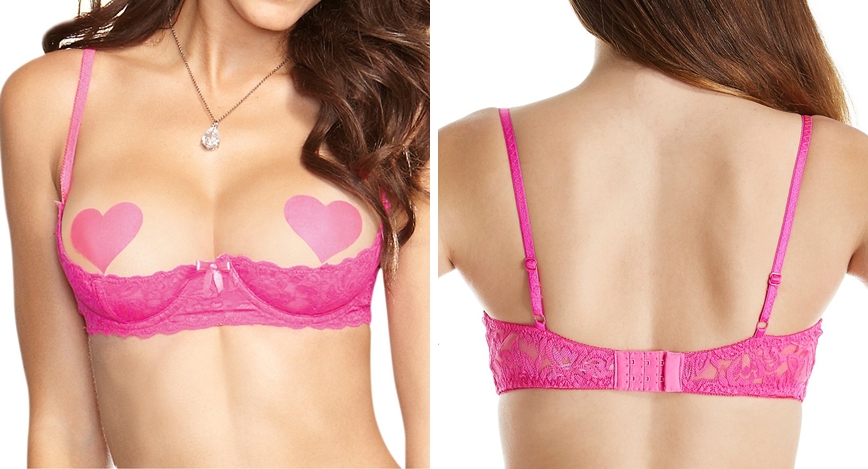 Open Cup Bras for Petites
Triangle top - Similar to a string bikini, this barely-there version of the open bra features micro straps and only the tiniest thread holding it on.
The advantage to this almost invisible style - no worries about additional support.
The bonus for sweet petites? There's nothing standing between you and your honey but a sexy and bold barely there open bra - that will definitely get his attention!
Ruffle trim - Even with open cups, you can pile on volume-adding ruffles and trim around the rest of your open bra to help boost your bust.
Look for styles that have a bow tied between your breasts, ruffled, flouncy bra straps or gathered trim around the cups.
Floaty chiffon and organza creates the illusion of a larger bust, and the peekaboo cups will be irresistible eye candy to your sweetheart.
Flimsy fabrics - Opt for luxury! Choose from the most luxurious fabrics out there, like lace, mesh, silky sheer nylon or chiffon.
Petites are fortunate - they can enjoy fabrics that are as light as air, and they don't need to worry about sturdier styles and materials for support.
The secret - enjoy the sassy whimsy of these exotic bras in fun and feminine fabrics that will make your open cup bra feel even more indulgent.
Strategic padding - Think you have to give up the stunning cleavage of push up bras?  Au contraire, just because the cups are open doesn't mean you're out of luck when it comes to a sexy lift.
How do you get maximum oomph?
Look for cupless bras that have side panels or a shelf just under the bust that will give you the kind of lift you get from regular padded bras - the best of both worlds - all without compromising the ultimate sexy cupless view.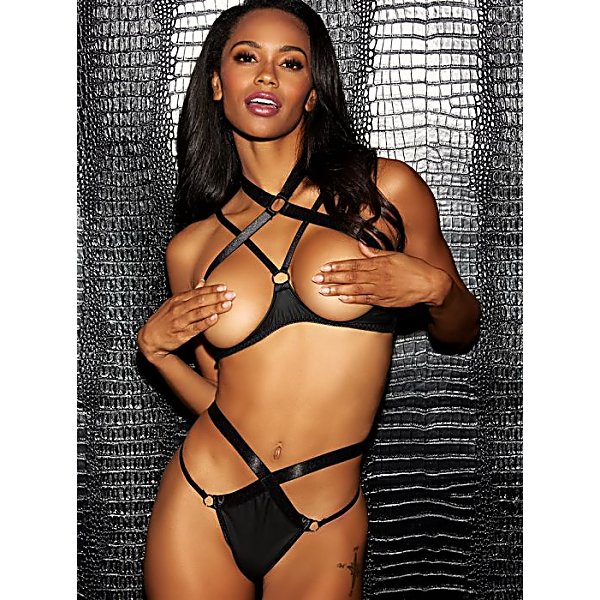 Open Bras for Curvy Gals

Bustiers - Bustier lingerie is an excellent choice for plus sized provocateurs - it offers the perfect amount of sexy support and shaping in a sensual style that men and women have come to appreciate and adore.
Cleverly designed to hug and accentuate sexy girl curves while providing the lift to make your bust look perky and captivating, sexy bustier tops are a great way to enjoy the stunning look of a cupless bra that exudes an effortless sex appeal.
Shelf bras - Provocative and powerful, the shelf bra offers the tiniest bit of lift beneath the breasts, which can make all the difference for well-endowed women.
Say goodbye to sagging and let the shelf bra boost your bust front and center, so you can feel comfortable baring it all in open cups.
Multiple straps - Be bold! Embrace the bondage look and choose an open cup bra with lots of straps that criss-cross - giving you a secret lift.
No worries about compromising a scandalously sinful look, because the straps give the air of a decadent dominatrix. The best of both worlds - sexy, sassy, and exciting - your lover will be blown away by your hot new look.