FTC Disclosure - If you make a purchase through links on this site, we may receive a small commission on the transaction. There is no extra cost to you, and it does not influence our content.

The Best Open Bust Lingerie That Will Inspire You

Open Bust Lingerie - If there's one thing that men love, it's the sexy sight of a woman's cleavage.
So, why not show off your girls and flaunt what you've got in one of the most provocative and popular open lingerie styles available.
Whether you opt for a sensual open cup bra in the sheerest pale pink or titillating thong teddy in black mesh, your sweetie won't know what hit him, and he'll be breathless with anticipation.
Looking for inspiration? We've rounded up the best styles for a sexy girl looking to amaze her man and flaunt her figure.
Open Bust Lingerie Picks: Cupless Bras

This cheeky sheer lingerie pick will make your guy weak in the knees from the moment he catches his first glance.
Take your pick from totally open cup bras and shelf bras, to kinky cutouts. The best part is that you can choose what you're willing to reveal and what you want to keep under wraps.
Want more cleavage? You can enjoy all the pushup and lift of a regular bra when you opt for a style with underwire, padded side panels, and straps that give your bust the boost you love.
Sexy Secrets
When it comes to open lingerie, it's worth spending extra money to get something that's sexy and comfy.... you're worth it!

Barely There Bustiers

The classic bustier gets a kinky twist when the cups are opened up to reveal your bust. This is a style that women turn to again and again because they love the sexy silhouette that bustier lingerie gives them. 
The best part?  Its snug fit will whittle your waist, hug your curves, and boost your breasts to their fullest potential.
You'll love the way it flatters your figure - and your honey won't be able to get enough of you in this sexy sheer lingerie that leaves little to the imagination.
Sexy Girl Essentials

While other colors are perfectly provocative, the ultimate sexy lingerie color that men lust for 9 times out of ten is.... you guessed it, black.

Naughty Negligees

Your raciest negligee just got more risqué when worn in a sheer open bra style.

Let your lucky lover savor the sexy sight of you parading around in this see thru lingerie - and yes, your peekaboo bare bust will have him in a frenzy, as will the rest of your skimpy sleepwear.
Not a fan of long gowns? Opt for one that's sheer, backless, has open paneling and is barely long enough to skim your bottom for the ultimate intimate impact.
Titillating Teddies

As if the teddy wasn't already frisky and foxy enough, wearing it in an open bust style takes it right over the erotic edge.
In addition to a bust-revealing style, look for a teddy that will tempt and tease - sheer fabrics, peek-a-boo cutouts and plunging-back styles will show off almost as much as your honey can handle, while keeping just a little something under wraps for later.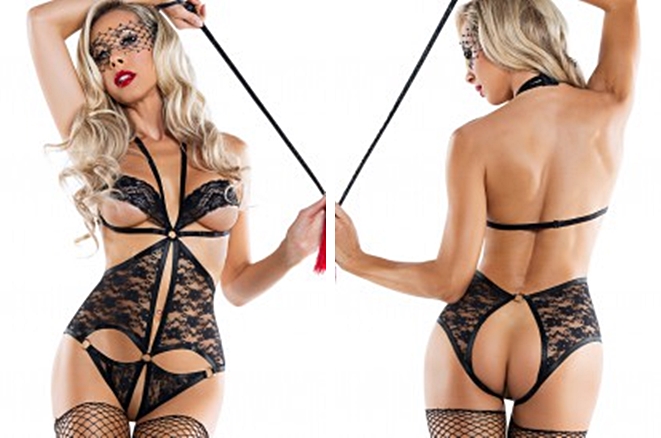 Barely There Body Stocking

Let your honey enjoy the sensational and sensual sight of your silhouette poured into a shape-hugging body stocking.
He'll love this curve-hugging, cravalicious, nearly naked open lingerie that flaunts your figure and shows off your assets, while revealing almost everything.
Looking for something a little different? Opt for sexy cutouts that emphasize your curves in all the right places.
Your sweetie will be stunned into submission when you slink into the bedroom and show him what he's been missing.
Exotic Lingerie Extras

Decorate your décolletage with sinfully sexy nipple tassels or pasties.
While not technically considered open bust lingerie, these lusty accessories let you bare your bust with a bit of cheeky fun, and keep your sweetie waiting for the full reveal.
He'll love the playful and provocative look of your accessorized assets, and won't be able to tear his eyes away from the smoking-hot and scandalous new vision before him.