FTC Disclosure - If you make a purchase through links on this site, we may receive a small commission on the transaction. There is no extra cost to you, and it does not influence our content.

Open Bikini Panties: Sexy Secrets That Will Inspire You

Open Bikini - Do you ever have the feeling that sometimes, you just want to have a bit of fun in lingerie that's exciting, and daring - completely different from the everyday intimate apparel that you usually wear.
A quick search of your lingerie drawer screams, "been there, done that, NEXT"!  When that mood strikes, why not consider a sexy bikini panty?
Cheeky, flirty, and fun, this popular panty scores major sexy girl points for its peekaboo styles and sheer detailing.
From low rise and g strings to criss cross straps and cut outs, these naughty knickers show off as much (or as little as you want) of a positively provocative posterior.
In this article we share how to use these sensational sheer panties to maximize the pleasure of your passionate pursuits.
Sexy Girl Tip
When mixing and matching, never pair a ratty old bra that's seen better days with a sheer bikini - it will put the kibosh to a sexy look.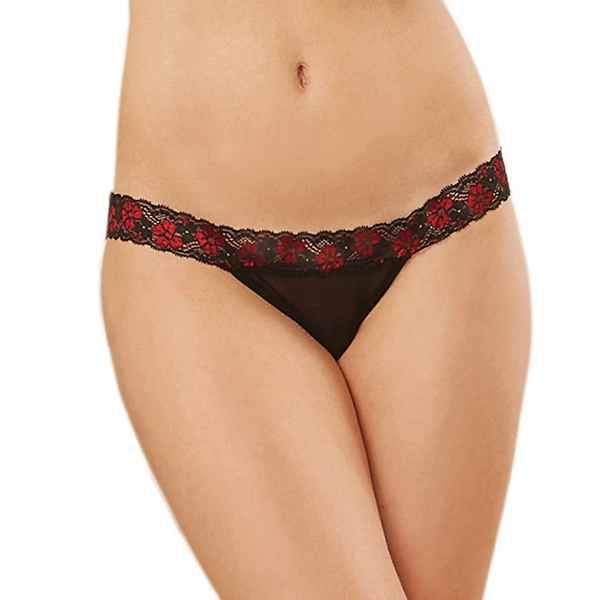 Go Minimalist In Open Bikini Panties

Sometimes there's nothing sexier than a KISS - keeping it simple and sensational. How?
Wear your open bikini panties with nothing else. Really. You don't need to worry about what to pair them with, instead just go bare everywhere else
Your lover's eyes will be glued to your barely there bikini panties and he won't be able to get enough of the sexy view
Keep your hair loose and natural, and go with a fresh-faced, girl next door look
Your sweetie will love the sight of your naughty knickers and the bare vibe you're rocking everywhere else
Go Glamorous In Open Lingerie

If you're a glamor gal and love to play dress up, the other alternative to wearing open bikini panties solo is to go all-out sensational, and doll up in your best and most provocative boudoir wear.
How? Here are a few suggestions to start your sexy look -

Slip on ultra sheer stockings or fishnets, a garter, a bustier (or stunning push up bra) with lots of cleavage. Then, add a sheer open babydoll or lace chemise over top
Channel your inner vixen and have fun layering your favorite pieces with flirty see thru lingerie
The idea is to make your crotchless panties the icing on the cake while you work a full look of lust-worthy lingerie.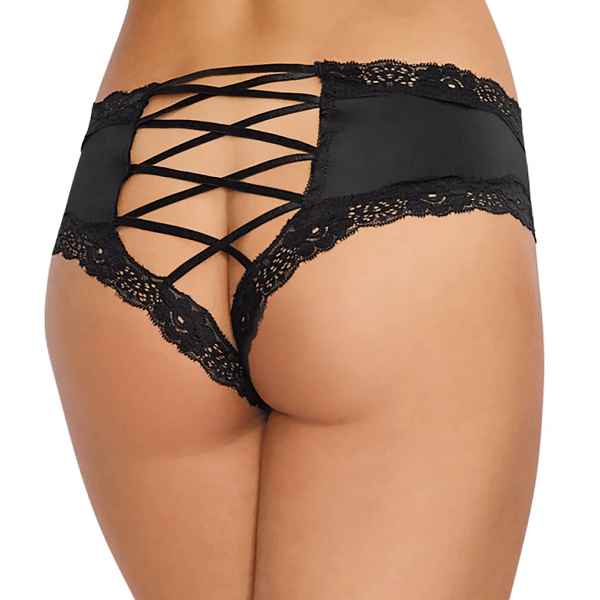 Let Your Sweetie Catch A Glimpse Of Your Sexy Panties

Remember the adage, "good things come to those who wait"? It's true - there's no better way to build sexual tension slowly than with a fleeting look of come-hither sheer lingerie
Flash a sneak peek of your undies while you're getting dressed for your night out. Let your honey see you slip them on under a skirt or dress.
They can look, but can't touch!
Anticipation will build, and they'll spend the rest of the evening obsessed with what you have on underneath - desperate to get you back to the bedroom for another look.
Leave Your Bikini Panties On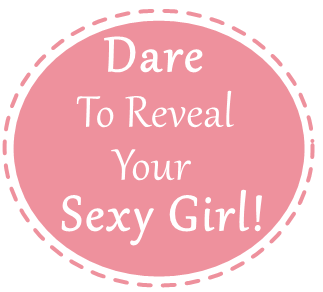 Tantalizing and titillating, these aren't a pair of panties to be tossed aside once you hit the sheets with your guy.
Instead, keep them on and let him enjoy the sexy and enticing view and how they hug your beautiful curves.
It will pique his interest even more, plus he'll love the easy access and the kinky closeness you can both enjoy without having to strip all the way down.
You can't get this up close and personal in a pair of regular everyday cotton panties, so keep them on and let him enjoy how sensual and special they are.
Don't be surprised if these sexy panties become one of his favorites - and he begs for a repeat performance night after night.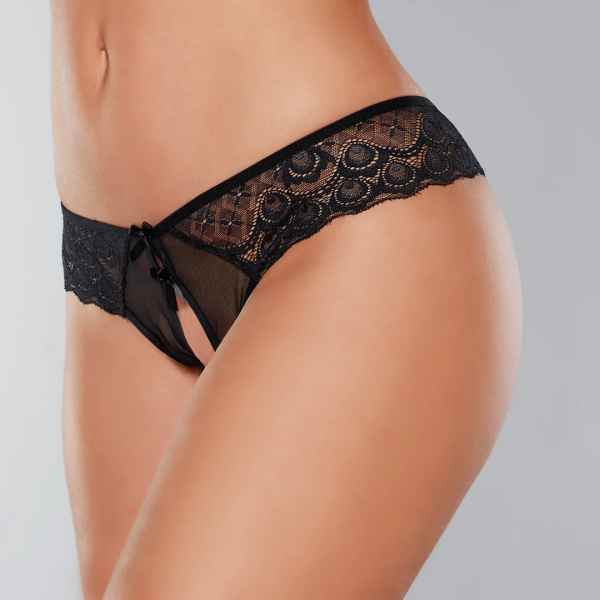 Sexy Secrets....
Jazz up your open lingerie with different shades of the same color - a darker open bra and paler open crotch lingerie - a sexy & sophisticated look.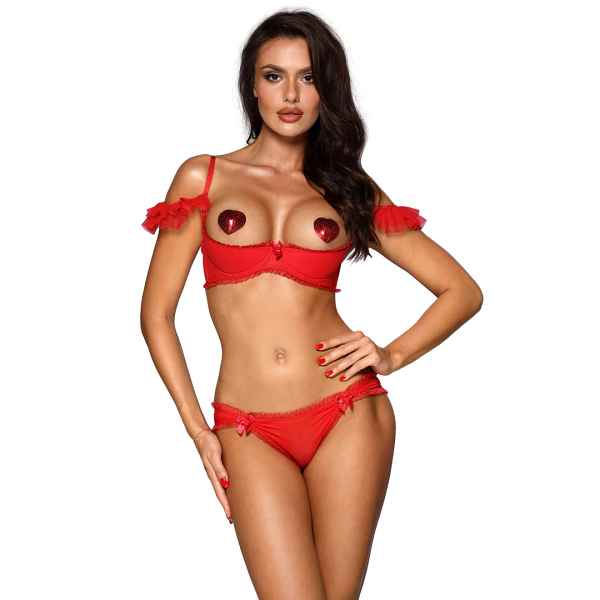 Tease Your Sweetie's Senses With Lingerie Accessories

The first time your lover lays eyes on you in open bikini panties or any type of open lingerie, it will be mind blowing. 
If, you really want to turn up the heat and have even more fun tempting and teasing, try tying him up - slowly and very gently of course, with a soft and sexy silk scarf - all while letting him savor the sensual view.
He'll go crazy not being able to touch you, and you'll love how powerful and provocative you'll feel.