FTC Disclosure - If you make a purchase through links on this site, we may receive a small commission on the transaction. There is no extra cost to you, and it does not influence our content.

Exotic Sheer Lingerie - The Best Styles You Need To Have

Exotic sheer lingerie - Sometimes its a good idea to take a break from the same old everyday basics that fill our lingerie drawer and turn our attention to the spicier side of sexy lingerie. 
We're talking about exotic showstoppers - must-have sheer bras, bustiers, panties and all of the delicious styles that sexy girls love to wear - especially if they dress to impress...
Exotic Sheer Lingerie - Titillating Teddies
One glimpse of a teddy and your partner will take the hint. This style is a favorite because it really accentuates a woman's curves and can be as naughty or nice as you want.
A sheer or lace teddy is a great choice if it's attention you're craving - or opt for a leather or mesh teddy if you're feeling really frisky and want something that's entirely different.
Cutouts along the torso and back are more risque, while see thru teddies with a pushup bra bring your bust front and centre. No matter what you choose, the lingerie teddy comes with a fun-filled guarantee for a hot night ahead.


Teddies
When you're feeling like a sexy siren (think Dita Von Teese), look no further than a sexy bustier. Easy peasy to wear, this exotic sheer lingerie can be as erotic or as tame as you want.
Bustiers  a sexy bonus - they whittle the waist to tiny tiny, while lifting and pushing the bust for an absolute killer cleavage.
Women love the sexy and feminine hourglass shape a strapless bustier offers, and men, being the visual creatures that they are, love anything that accentuates a sexy bod.

P.S. Don't forget to give him a moment to catch his breath before you unleash your charms in bustier lingerie.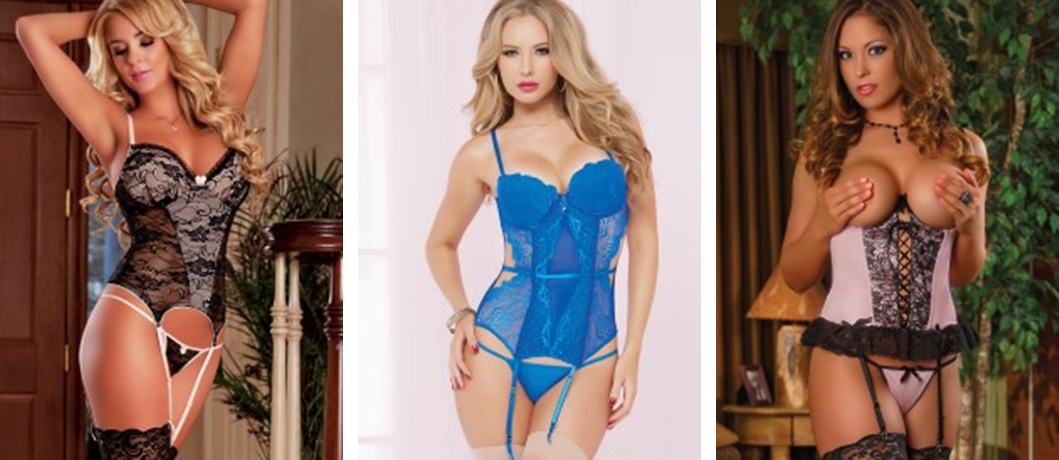 Bustiers & Corsets
Exotic Essentials...
Surprise your lover with skimpy and see through underwear.
Keep in mind - the skimpier the undies, the sexier the impact.
Definitely not your granny panties - when it comes to sexy undies there are a multitude of styles to choose from, and something for every sexy girl to enjoy.
From itsy-bitsy g-strings and low-rise lace bikinis, to cheeky boyshorts and sheer tangas, all you have to do is pick your passion.
So don't be shy, and remember that no lingerie drawer is complete without at least a few pairs of sheer panties.

Shop For Sexy Panties
Whether you're an A cup or a DD, men love love love seeing luscious cleavage on display. And, every vampy vixen needs at least two or three exotic bras that boost her bust and give her a knockout silhouette.
Not blessed with a DD cup? No worries. Look for padding, molded bra cups, and underwire balconette or demi bras to give your girls a lift for a spell-binding look.
Then add on lace or mesh trim, criss-cross ribbons, sheer panels and other exotic extras that will amp up your assets for a sexy look that makes your honey go weak in the knees.

Kinky Cut-Out Exotic Sheer Lingerie
Cutouts offer the best of both worlds and a great way to take see through lingerie and dial up the frisky factor even more.
Sexy Girl Tips...
Spend lots of time in the gym and want to show off that sexy bod you've worked so hard for?
Don't be shy - show it off with sexy sheer lingerie that leaves nothing to the imagination.
More mild mannered ladies can look for body suits or teddies with sheer panels or cutouts that show off the abs, waist, or back, while exotic lingerie aficionados can go all out in crotchless panties and open cup bras for an uber sexy look.
Skip the sheer inserts and opt for super sexy cutouts that expose lots of skin like a thong teddy or a backless thong bodysuit.
When it comes to sheer lingerie, don't be afraid to think outside the box and try something different. Then, watch your sweetie's jaw drop as he sneaks that first peek!

Shop for Sheer Lingerie
Sheer Lingerie > Exotic Lingerie