FTC Disclosure - If you make a purchase through links on this site, we may receive a small commission on the transaction. There is no extra cost to you, and it does not influence our content.

Exotic Bras: How To Go From Simple To Sexy

Exotic Bras - There's always a time and a place for basic everyday bras, but sometimes you just want something that's more exciting and provocative.
We're talking about babe-alicious sexy bras, the kind that make you stop and think, wow that's hot!
From see thru push up bras to uber seductive cupless bras, these specialty bras are super special styles that you pull out of your lingerie drawer when you want to feel like an erotic empress.
Want to dress to impress? Here, we share how.
Exotic Bras - Work A Sexy Look

Some bra styles call for the rest of your look to follow suit with exotic details and glamour. What's the best way?

Opt for a sheer bra with matching panties that are rich with details and decadence
Then pair the sexy bra and panty set with a garter and silk stockings or fishnets
Finally, top the whole thing off with a sheer silk robe for a super sexy lingerie model - think Gisele Bundchen, look
The secret is to treat sexy bras as something special by wearing them with a full set of sensual accessories; complete with all the bells and whistles you need that will blow your lover's mind.
Sexy Girl Tip

For a super sexy look and feel that hugs your curves in all the right places, choose soft mesh or lace bras with a whisper of spandex.

Sheer Bras - Keep It Simple & Spicy

Another sexy way to work a sheer bra is to let stand out on it's own by wearing it with a simple, basic pair of bottoms.
A tiny black thong, g string or tanga, or even a pair of boyshorts will really showcase your bra, as well as your bust, by keeping the focus all above the waist.
Sometimes the best way to draw attention to a sexy bra is to KISS - keep it simple...and let your assets sizzle.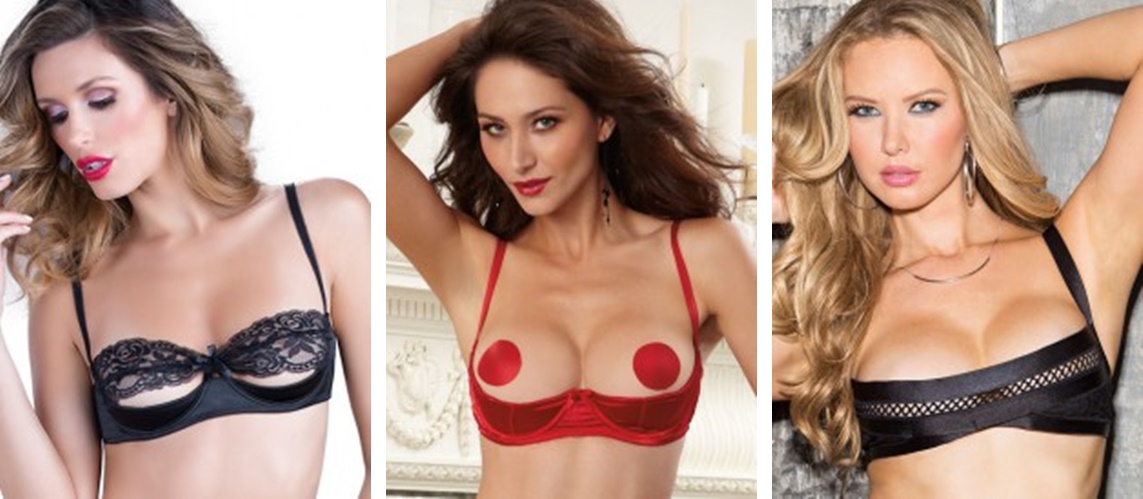 Borrow Your Sweetie's Boxers

When you're feeling extra cheeky, have some fun with your most glamorous exotic bras by pairing them with your guy's boxers or briefs.
This is the ultimate clash of masculine AND feminine, plus it's guaranteed to be a game-changer. Why? Men love seeing women wear their clothes and the sexy femininity they bring to every day guy things.
Teaming his ordinary underwear with your most girlie, luxurious see through bra is a kinky contrast that men find irresistible.
Wear Exotic Lingerie ... On A Tuesday

... or any other ho-hum ordinary day. We tend to get into the habit of saving our show-stopping sexy sheer lingerie for special occasions or big celebrations, which means that we rarely end up wearing our sexiest bras, panties, etc.
Throw your sweetie for a lusty loop by stripping down on a weeknight and revealing an saucy open cup bra and sexy panty combo.
He'll be wracking his brain trying to think of what anniversary he's forgotten while you look simply stunning in a knockout bra that can make any night unforgettable.
Dare To Bare It All In Sheer Lingerie

Sometimes the very best accessory for an exotic bra is ....nothing at all. Let it speak for itself while you slip out of everything else.
Whether you opt for racy cupless bras, lace bras, or even mesh bras, don't be afraid to highlight your assets in a sheer and sexy bra that needs no extras.
Your honey can feast his eyes on the sweet treat of you wearing a sexy bra all on it's own. Let your sheer lingerie steal the show without any other distraction.