FTC Disclosure - If you make a purchase through links on this site, we may receive a small commission on the transaction. There is no extra cost to you, and it does not influence our content.

5 Cupless Bustier Mistakes That You Need To Avoid

Cupless Bustier - You'll never hear your guy complaining when you wear seductive sexy girl intimate apparel, but when it comes to show-all bustiers, there are some definite dos and don'ts for pulling it off like a pro.
The good news is that you don't need to have a perfect body like super model Miranda Kerr, and you don't have to learn any advanced provocative moves to amaze your sweetie in this exciting open lingerie style.
It's easier than you think!

All you need is a little insider know-how and the right attitude, and you're on your way. That's it. Really.
Want to know more? You've come to the right place. Here, we've compiled a list of 7 common mistakes that you need to avoid - to achieve the flirty, flawless and frisky look you want.
Cupless Bustier Mistake - Letting Your Nerves Get The Best of You

Ok, here's the big revelation which should come as no surprise - no one has a perfect body or feels totally confident, especially the first time they're baring it all in sexy sheer lingerie.
Feeling shy or self-conscious is perfectly normal.  The trick is not to let it get the best of you and take away from the fun and fire of a passionate night
Your honey will be so excited and hypnotized by the stunning view that he's won't be judging you or sizing up your performance.
Slipping into and enjoying a cupless bustier should mean a night of pleasure, not one of worrying and being distracted by your nerves.
Sexy Girl Tip
First time wearing ultra sexy sheer lingerie and feeling a little nervous? No worries, you've got this! Take a moment and breath in slowly to the count of 5, then exhale to 5. Repeat, relax and enjoy!

Bustier Mistake - Rushing Into It

The vision of a gorgeous, sexy woman in an cupless bustier is a sweet treat that men crave - so let your sweetie savor and enjoy it to the fullest.
It's not a race, so resist the temptation to strip down as soon as you can and dive under the covers. It can be a real killjoy for your honey if the sexy eye candy vanishes, just as he's just getting started.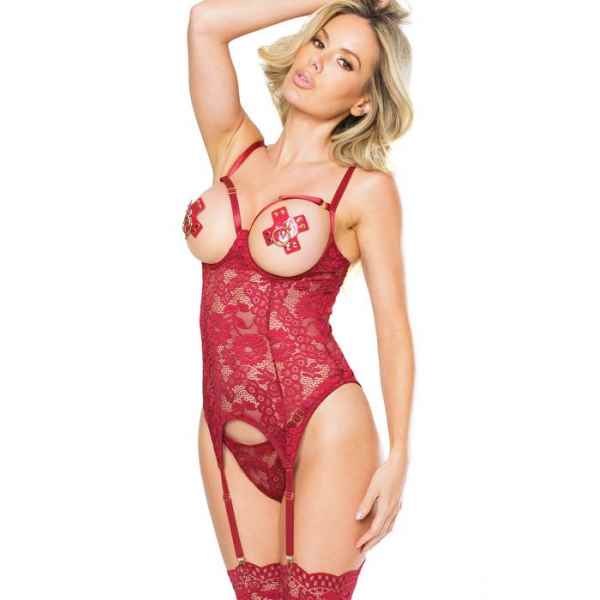 Men love and appreciate the sensual art of seduction, and ALL of the things that go with it -
bustiers and corsets

open bras
sexy panties
garters
stockings and other see through lingerie
So, let him take his time to explore the sexy lingerie that you've so carefully chosen with him in mind.
You'll both get the more pleasure out of it when you slow things down and enjoy an amazing night of passion.
Open Lingerie Mistake - Not Going All Out

This is a time to really work it and have fun!
Don't be lazy and pair a hot lingerie bustier with plain-Jane cotton panties or worse yet, a mismatched panty and stocking combo, and expect to see fireworks. That's about as appealing as flat champagne.

Get into the spirit and go for all-out eroticism.
Add a sheer micro bikini panty, g string panties or even crotchless panties
Open up your treasure chest of naughty toys, set the scene with candles and sexy music that brings out your inner minx, and let loose
You'll experience exotic adventures with your sweetie when you make a bit of an effort and set yourself up for sexy success.
Sheer Lingerie Mistake - Buying It Too Big

The beauty of the bustier is the way it hugs your body, squeezes you in, whittles your waist, and boosts your bust.
The insider secret?  A snug fit that's designed to skim your shape and compliment your curves.
Opting for a looser fit defeats the sexy look and means that you'll be missing out on the va-va-voom factor that makes this favorite sheer lingerie such a show-stopping piece.
Keep it fitted for a sexy look, and feel like a total bombshell.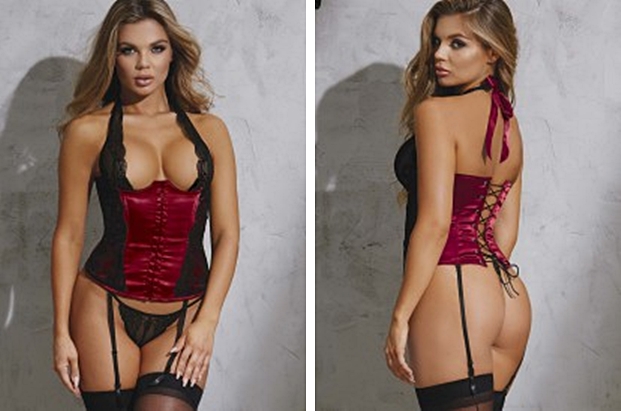 Sexy Lingerie Mistake - Saving It For Special Occasions

Sure, the cupless bustier is a great look to rock on an anniversary or your honey's birthday, but why wait for special occasions when you can make any night magical?
When we set sexy lingerie aside to wear on the perfect night we end up forgetting and never actually wearing it.
Change your attitude and decide to make Sunday night sexy-time or rock a flirty open bustier on a Wednesday, just because.
Your guy will love the sultry surprise and will be wondering what he did to deserve such a sweet treat for no reason.