FTC Disclosure - If you make a purchase through links on this site, we may receive a small commission on the transaction. There is no extra cost to you, and it does not influence our content.

Bra Sheer: How To Choose The Best Style For Your Shape

Bra Sheer - What is the number one secret to looking great in any bra? It's choosing the right style for your silhouette.
Women's bodies come in so many sexy shapes and sizes, so it makes complete sense that every unique figure has its own set of needs and wants for the perfect bra fit.
In this article we'll cover all the bases on bust types, plus we'll show you how easy it is to choose a sheer bra that looks sexy gorgeous AND feels great.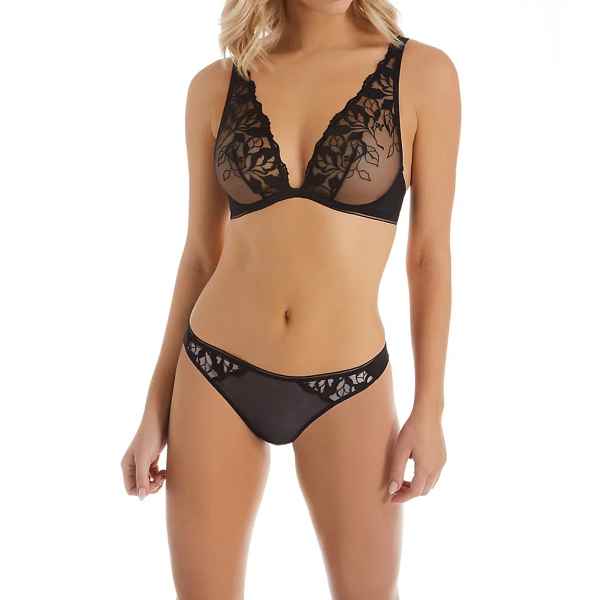 Bra Sheer For A Full Bust

Whether you're tall or petite, an ample bust needs a bit more support.
No worries, this doesn't have to mean a boring, support bra for your girls. All you need are a few key elements and you'll be slipping into a stunning see through bra of your choice -
Look for wider cut bra straps with a pretty satiny finish or lace trim, then look for a generous bra band that supports the bust from below and gives you a sexy boost

When it comes to the cups, a style that's completely sheer may not offer enough support, so look for underwire bras with molded cups that have sexy transparent panels or peekaboo inserts

You'll get the best of both worlds – support and sensuality, and a sheer bra that emphasizes your assets.
Sexy Girl Secret...
Opt for firm mesh with a hint of spandex for the ultimate sexy support that stretches with your curves.

Bra Sheer Tips For Gals With Curves

Women with a plus size figure can look sexy fine in a sheer bra with a few simple tips. How?
Avoid a lumpy silhouette under clothing and opt for a wide bra band, even going with a long line style that offers ample coverage below your bustline (yes ladies, below your bustline!), for a sleek and smooth look
Choose from underwire cups or go wire free, depending on your bust size. Anything sheer and pretty goes, as long as you get the perfect fit

Keep in mind that see through bras that are too loose will ride up and won't support you, and styles that are too tight style will pinch and create an unflattering shape
The solution? Try on several sheer bras before you buy to make sure they look and feel perfect
Sheer Bras For Petites

Small busted women and those with a petite frame are able to wear beautiful sheer bralettes that are barely there and sweet and sexy...
Keep the details delicate to enhance your small size, like tiny bows, spaghetti thin straps, or fine lace details

Because you don't need much support you can wear flimsier sexy bras, but still make sure to look for a great fit to eliminate sagging and a bad fit
Opt for adjustable bra straps - you can adjust them to fit comfortably over narrow shoulders to give you the lift you need
Bra Sheer For Sexy B Cups And C Cups

Lucky you! The perfect size B and C bras fall into the mid range of bra sizes that give you an amazing number of sexy transparent bra options...
Try cups that are completely sheer, try a bralette style, or opt for molded cups with see-through inserts
Take your pick from any number of sheer bras. The secret is making sure you get the perfect bra cup, band and strap fit
Keep the trims and details pretty and feminine for a look that you'll love to wear